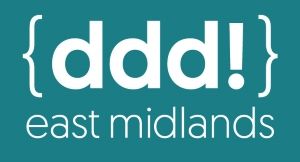 Attendee Information
Contents
Transport On The Day
Catering
Social Media and Photos
Covid Precautions
Having spoken to several of our ticket holders we have found that we have several delegates with underlying health issues - including one of our organising team - and a lot of nervous attendees.
DDD East Midlands Conference is an inclusive event to celebrate and explore the great technical talent across the region, so we don't want you spending the day anxious about covid, we want you to be having fun!
To ensure the event is as safe as possible for all in attendance we are taking the following precautions and ask that you help us by cooperating with them.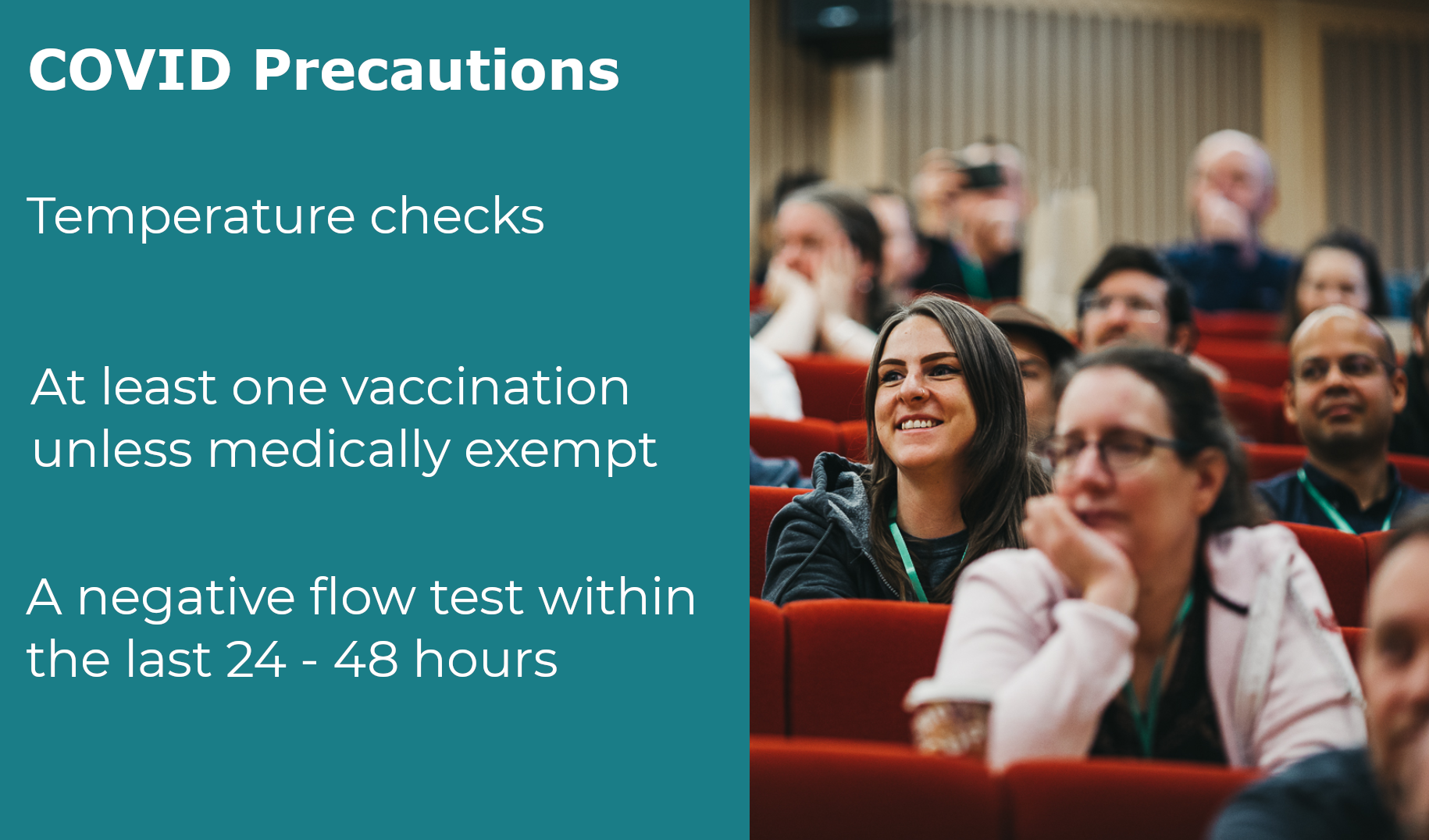 On arrival at the event
When you arrive we will do the following:
Check your temperature
We will do this by using a "thermometer gun," a device that is equipped with an infrared sensor that can quickly measure surface temperature without making any contact with a person's skin.
Ask you to provide proof of at least one Covid vaccination
You can do this via the paper card you carry in your wallet or by showing us your digital "NHS Covid Pass".
To get the NHS Covid Pass you'll need to register on the NHS App and download it to your phone ahead of time. To register, the process takes around 5-10 mins but it can take up to 24 hours for the NHS to process so please do this ahead of time. You can then save the pass into your digital wallet for easy access
If you have medical reasons why you have not been vaccinated please let the volunteers know. We understand there will need to be exemptions for some cases.
Prove you have had a negative result on a lateral flow test in the last 24-48 hours
We would like you to do this by entering your negative result athttps://test-for-coronavirus.service.gov.uk/report-result/login-choice.From this you will receive an email or text message to confirm your negative result, which we would like you to show us upon arrival.
If you cannot prove a negative lateral flow result we will have a testing area at the venue where you will be asked to do one in real time before joining the conference. Please bear in mind this will take 30 mins as a minimum so arrive early!
Ask you to choose a wrist band.
The wrist band will indicate if you are socially distancing or not.
Red band: Please keep your distance.
Green band: I'm not socially distancing.
We thank you in advance for being respectful about peoples choices around their social distancing requirements.
Throughout the day
It is not a socially distanced conference so there is no requirement for you to keep your distance from your friends, but please be respectful of others who may want to keep their distance.
Face mask wearing will be optional, depending on your comfort levels.
We will provide hand sanitiser around the venue for use throughout the day
Thank you for your patience
These additional checks will mean it takes a little longer to check you in than we would usually like, but hope you understand we are taking these precautions so that everyone feels safe and relaxed and can enjoy the event.
Code of Conduct
Please familiarise yourself with the Code of Conduct.
All involved in the DDD East Midlands Conference are subject to Code Of Conduct Page.This is not just for the day of the event, but for all presence of DDD East Midlands including Social Media.
Please make sure you are familiar with it and adhere to it at all times to create the most inclusive and friendly event for all involved.
Should you have any concerns regarding the Code of Conduct before, during or after the event, please contact the organisers. See the contact page for information.
When and Where?
When
2nd October 2021 8:00am - 6:00pm.
Where
Age Restrictions
For insurance reasons, only people over the age of 18 can attend DDD East Midlands. We would love to bring this age limit down in the future, but for the first event, we want to keep some of the cost and organisational overhead relatively low.
Tickets
Using Tickets
We are using Eventbrite for our ticketing. Registration will open from 8am. On entrance one of the crew of volunteers will ask to scan your QR code.
Returning Tickets
If for any reason you are no longer able to attend the conference, please return your ticket so that someone else can claim the place. We do pay per person, so this will have an impact on us if you can no longer attend but don't return the ticket.
Waiting List
The tickets for this event sold out within a day for both releases. If you were not lucky enough to get a ticket, pleasesign up to the waitlist here. If a ticket becomes available, and you are next on the waitlist you will recieve an email and given 24 hours to claim your ticket.
Before The Day
PAT Testing
This point is particularly important if you are taking part in our "Hacktober Corner".
Any devices that will be plugged in during the day need to be PAT tested. They need to have a valid visible sticker on them or a certificate present. Where possible, please try to get your devices PAT tested before the day. This includes any laptop chargers.
There will be a limited amount of PAT testing available on the day. First priority will go to speakers and then to exhibitors.
Transport On The Day
Taking the train
Head to Nottingham Train Station
Nottingham Station is the mainline train station close to Nottingham city centre. The train station is a 15 minute walk from Nottingham Conference Centre, but for those new to the city, it might be easier to take a taxi or use Nottingham's tram NET (Nottingham Express Transit) system. Directions to the station tram stop are signposted throughout the train station building. The Conference Centre is located between the Royal Centre and Nottingham Trent University tram stop. Take a tram heading to either Phoenix Park or Hucknall. Exit the tram at the Royal Centre, continue down Goldsmith Street taking the first right turn onto Burton Street where you will find the Nottingham Conference Centre entrance on the left.
Driving
Directions to Park and Rides
From the north, exit the M1 at junction 26 and follow the signs for the A610 towards Nottingham city centre.
There is a Park and Ride (tram) facility situated close to the M1 junction 26. The Park and Ride (Phoenix Park) site is clearly sign-posted off the A610.
Leave the tram at the Nottingham Trent University tram stop which is located on Goldsmith Street and walk past the main University entrance, turn left on to Burton Street where you will find the Nottingham Conference Centre entrance.
From the south, exit the M1 at junction 24 and follow the signs for the A453 to Nottingham city centre.
The Queen's Drive Park and Ride is located just off the A453 (Queen's Drive), follow signs for A453 / Queen's Drive Industrial Estate and merge on to the A453 (Queen's Drive). The Park and Ride is located on the opposite side of the road to the retail park and is clearly sign-posted.
Alight from the Park and Ride bus on Lower Parliament Street (Victoria Centre); Nottingham Conference Centre is a short walk away.
Car parks
Car parks in the city centre are clearly signposted from all major approach routes. There are two car parks close to Nottingham Conference Centre, Trinity Square car park on North Church Street and Talbot Street car park. For satellite navigation systems please use the following information:
Trinity Square car park: postcode NG1 4BR
co-ordinates 52.956785,-1.149316
Talbot Street car park: postcode NG1 5GG
co-ordinates 52.956143,-1.154433
Coming To The Event
Coffee Meet
We know that it isn't always easy to walk into an event alone. One of our volunteers will be at the Costa near the venue to meet those who want to come to the conference with company. They will be heading off from Costa at 8.30 to walk to the venue and get you all signed in.
Registration
Registration opens at 8.00am with the opening ceremony starting at 9.00am. You will need your Eventbrite ticket as volunteers will be scanning the QR code.
Once you have been scanned in you will be given a lanyard (the colour of which is based on whether you are happy having your photo taken or not) and asked to fill in the information on the front (Name, Pronoun).
Catering
Food and Dietary Requirements
Lunch and snacks will be provided on the day. This will be a hot buffet lunch and the options will be chefs choice on the day.
All food is prepared in kitchens where nuts, gluten and other allergens could be present. As the menu descriptions cannot include all ingredients, we will try to cater to the requirements you listed as part of your ticket registration.
Here is an example menu provided by the menu to give you an idea of what might be provided for lunch:
Stir fried vegetables and beans in a Korean style bulgogi sauce
Chicken, leek and mushroom pie topped with shortcrust pastry
Lamb rogan josh served with naan and mango chutney
Parmentier potatoes
Steamed coriander rice
Medley of garden vegetables
Carrot, spring onion and sultana salad
Spiced cous cous
Alcohol
We will not be serving alcohol as part of the event and ask that you don't bring any with you as we are not licenced.
Coffee
There is a coffee cart at the event being run by Cartwheel Coffee, thanks to our Sponsors UNiDAYS.