Contribute to DDD East Midlands
There are a number of issues that can be picked up on the DDD East Midlands repositories. We have labelled the issues with up-for-grabs, hacktober, hacktoberfest if we think they are small enough to be picked up for a PR.
Pick up an issue.
Write a blog post.
Fix spelling mistakes.
Raise an issue.
Below are links to the DDD East Midlands repositories.
DDD East Midlands Website Repository
DDD East Midlands Blog Repository
First PR?
Tell us what you love about the East Midlands Tech Community
Add a list element to the below with your name and a sentence or two about what you love about the East Midlands tech scene.
How to do this?
Some information about HacktoberFest and how to contribute can be read about in this linked blog post. Below are some instructions on how to make changes to this page.
Fork the repository
Fork the repository and clone it locally. Configure your remote fork to have the original projects main branch as it's upstream.If you regularly pull in changes from this remote "upstream" repository, your fork will remain up to date, reducing the chance of later complex merge conflicts.
Create a branch
In your forked repository create a branch, which is named according to the contribution guidelines for the repository. If there are no guidelines available, give your branch a short name that summarises your changes.
Add your change to this page
In the `pages/2020/hacktober.js` file you will see the section "Why we like the East Midlands Tech Community:". Add your name and reason why you like the East Midlands tech community to the list.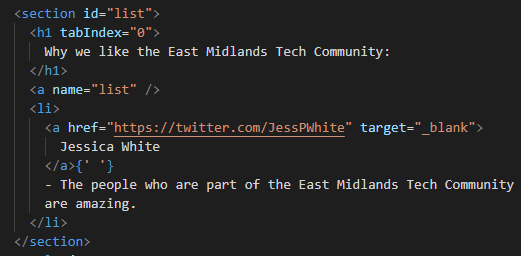 Run prettier
In your terminal of choice (command line, bash etc) run the command `npm run prettier fix`. This will fix the formatting in your changes.
Commit, push and raise a Pull Request
Commit your changes with a message describing your change and push your changes up. You can then raise a Pull Request using the GitHub UI.